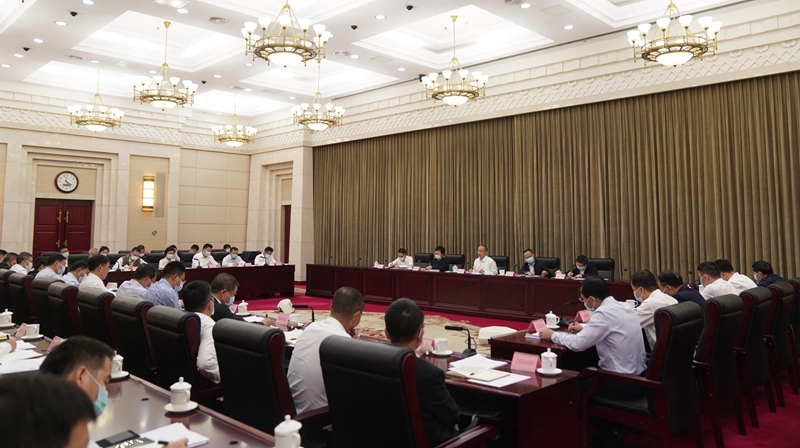 On September 23, Huang Qiang, Deputy Secretary of the CPC Sichuan Provincial Committee and Governor of the People's Government of Sichuan Province, presided over the 2022 Plenary Meeting of Sichuan Provincial Culture and Tourism Industry Leading Group. Huang emphasized the need for in-depth study and implementation of General Secretary Xi Jinping's important discourses on cultural and tourism work and Xi's important instructions made during his visit to Sichuan. Huang also stressed the necessity of conscientiously implementing the plan of the 12th Sichuan Provincial Congress of the CPC and the CPC Sichuan Provincial Committee to make all-out efforts in the fourth quarter. In addition, he urged the efforts to strive for recovery and potential unleashing in the culture and tourism market, vigorously improve the quality of the industry development and keep polishing the relevant brands, and fully leverage the important role of cultural and tourism consumption in driving economic growth.  
Huang Qiang said that despite the multiple challenges in 2022, Sichuan's culture and tourism industry has witnessed a steady recovery and accelerated revitalization after a smooth start and a decline under pressure. There are only three months left before the end of the year. All localities and relevant departments should bolster confidence, seize the opportunities and go all out to make a greater contribution to maintaining the stability of the economy, with a priority given to cultural and tourism consumption recovery. Besides, they must accurately grasp the new situation, new tasks and new requirements, earnestly plan to advance the province's cultural and tourism work, and strive to translate the strengths in resources into advantages in development at a faster pace and promote continuous achievements in building Sichuan into a province with cultural and tourism strength.  
Huang also called for efforts to build the province into an important tourist destination in the world. Relevant departments have to accurately understand the standards and connotations of a world tourist destination and benchmark against world-class standards before speeding up the preparation of the construction plan of the province and the building of a system of such world renowned brands as Sanxingdui Site-Jinsha Site and Giant Panda National Park. They should focus on changing the model of bringing in revenue mainly through the sale of tickets and vigorously develop middle and high-end tourism commodities. Additionally, they need to improve consumption experience in all aspects, including food, accommodation, travel, shopping and entertainment, and expedite the upgrading of the tourism industry to offer simple but exquisite experience. Relevant departments should always take "tourism as the carrier and culture as the soul", promote excellent traditional culture, protect the authenticity and integrity of natural ecosystems, preserve biological diversity, and facilitate in-depth integration of culture and tourism. They need to establish a traffic system that allows visitors to enjoy convenient travel and in-depth tourism and continuously improve the tourism infrastructure network. They must go all out to advance project implementation, stimulate consumption and ensure security in operations of market entities. For early implementation of more major cultural and tourism projects, relevant departments must advance extremely fast approval of their applications. During China's National Day Golden Week in October, they should boost the cultural and tourism consumption market in an all-around manner by organizing a variety of cultural and tourism activities, implementing a series of preferential policies, taking multiple measures to bail enterprises out, and making plans for tourism in winter in advance. It is also necessary to strengthen the cultivation, shaping, publicity and promotion of cultural and tourism brands. Relevant departments need to continuously extend the influence of Famous Tourist Counties of Tianfu and Famous Tianfu Tourism Brands, deeply advance the building of such cultural and tourism brands as "Great Jiuzhai Valley" and "Great Grassland", and endeavor to form a large pattern of cultural tourism publicity and promotion, which features connectivity among departments at all levels throughout the province and participation of multiple parties. It is a must to resolutely guard the defense line against the pandemic and the bottom line of safety. Relevant departments must take strict pandemic prevention and control measures, including temperature checks, mask wearing and separate dining, identify and address safety hazards in all aspects, and strengthen the management of new forms of cultural and tourism business. Moreover, they have to speed up post-disaster reconstruction after the earthquake that jolted Luding County on September 5. A comprehensive assessment should be carried out as soon as possible, and restoration and upgrading of the disaster areas should be accelerated. Under the premise of ensuring safety, relevant departments must strive to reopen some areas first, and help the affected people earn income from tourism again as early as possible, with steady growth in income.  
Provincial officials Li Yunze and Zheng Li as well as heads of the member units of Sichuan Provincial Culture and Tourism Industry Leading Group attended the meeting.