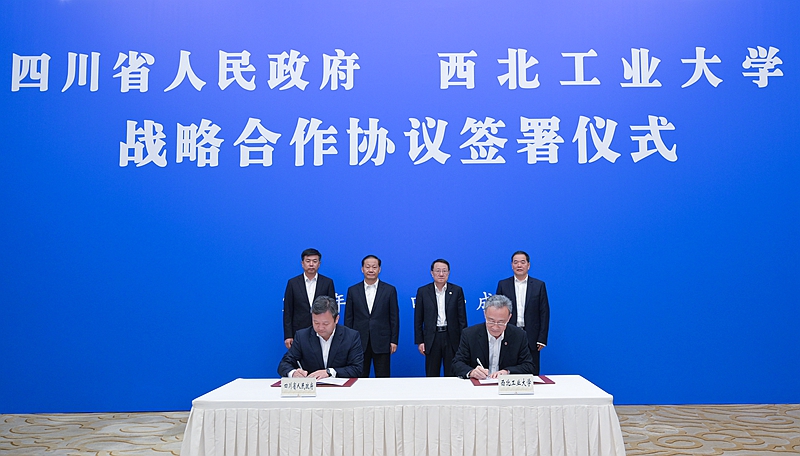 On the morning of October 11, a strategic cooperation agreement was signed between the People's Government of Sichuan Province and Northwestern Polytechnical University (NPU). Peng Qinghua, Secretary of the CPC Sichuan Provincial Committee, met with Zhang Wei, Party Secretary of NPU, President Wang Jinsong and their party, and witnessed the signing of the agreement together.

  In the meeting, both parties focused on satisfying the needs in realizing national major strategic layout and economic and social development in Sichuan and shared opinions on deeper cooperation in terms of co-construction of industrial innovation platform, promotion of scientific and technological achievements transformation, co-organization of talents cultivation and other fields.

  Yu Lijun, Member of the Standing Committee of the CPC Sichuan Provincial Committee and Director of the Organization Department of the CPC Sichuan Provincial Committee, presided over the signing ceremony and introduced the agreement; Vice Governor Cao Lijun and Wang Jinsong signed the agreement on behalf of the two parties. As per the agreement, NPU and Sichuan will work together to establish a high-level communication mechanism and an inter-department connection implementation mechanism to achieve cooperation in such areas as development of strategic decision-making consulting, promotion of scientific and technological achievements transformation and enhancement of talents exchanges and cultivation. Therefore, they can better facilitate the implementation of provincial strategic planning of "coordinated development of Chengdu as the trunk and Sichuan's five major zones as the branches" and "four-pronged development, province-wide opening-up", develop NPU into a world-class university with Chinese characteristics and make new and greater contributions to China's self-development in science and technology at a higher level.

  Relevant leaders of NPU and heads from relevant provincial departments also attended the signing ceremony.