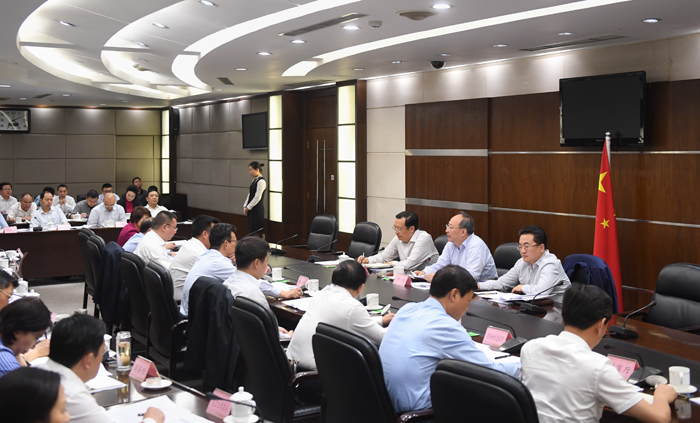 On May 20th, Mr. Yin Li, Vice Secretary of Sichuan Provincial Committee of the CPC, Governor of People's Government of Sichuan Province, presided over the provincial leadership meeting on the construction ofMianyang Science and Technology City to implement the important guiding principles of General Secretary Xi Jinping on the construction of Mianyang Science and Technology City and military-civilianintegration, and arrange the deployment of recent key tasks. Mr. Deng Xiaogang, Vice Secretary of the Provincial Party Committee, attended the meeting.

  At the meeting, reports from the provincial departments, Mianyang City on the construction of Mianyang Science and Technology City and the preparations for the 7th China (Mianyang) Science and Technology City International Expo were delivered, and the document of 2019Key Arrangements for the Construction ofMianyang Science and Technology City was reviewed.

  At the meeting, it was emphasized that the construction of Mianyang Science and Technology City is an important carrier for implementing the innovation-driven development strategy and promotingmilitary-civilian integration. The members of Mianyang City and the leading group should fully implement the new development concept, adhere to the goal-oriented target, and further strengthen the awareness of responsibility. Measures should be implemented to ensure that the decisions and arrangements of the central and provincial party committees and governments are implemented with practical results. We must tart from major projects, implement fully major national projects, promote the pilot reform of military-civilian integration, grasp the innovation platform and carrier construction, accelerate the construction of enterprise-oriented and market-orientedtechnology, and deep integration of production, education and research. We should put forward the system, accelerate the in-depth development of military-civilian integration and enhance the ability of independent innovation. It is necessary to integrate the strategic deployment of the provincial party committee and the provincial government, focus on the construction of the "5+1" modern industrial system, optimize the industrial distribution, accelerate the pace of industrial quality improvement, transformation and upgrading, and the development of chain clusters, deepen regional exchanges and open cooperation, and promote the science and technology city. We should utilize the construction of the "Belt and Road" and the development of the Yangtze River Economic Belt to promote the high-quality development of Mianyang's economy.

  At the meeting, it was requested that the leading group office should further increase coordination, and relevant provincialdepartments should take a more active role in the division of functions and strengthen work promotion and supervision. Mianyang City must fulfill its main responsibilities, fully mobilize the initiative and creativity of all parties to work together to accomplish the objectives and tasks, in an effort to promote the continuous development of Mianyangwith new developments and breakthroughs.